About Sun Asia
Company Profile
---
Sun Asia Enterprise Co., Ltd was established in 1990, due to Taiwan's economic take-off, booming real estate sector that leads aluminum doors, skylights roofing and other grow in similar sectors. Initial skylight roofing are imported from Japan and other advanced countries. This involved high material cost. Foreseen future prospects of Polycarbonate industries; therefore Sun Asia Enterprise Co., Ltd was established.
Sun Asia Enterprise Co., Ltd was the pioneer of Polycarbonate manufacturing factory in Taiwan with quality and brand image awareness. Products such as Solid sheet and Twinwall sheet which are co-extruded but also consist of UV coated on the surface against infra-rays. Sun Asia Enterprise Co., Ltd has even work together with Asahi Kasei on a project of high technology optical diffusion sheet. To provide users with more comfortable skylight roofing, we have transform and innovate our patent aluminum profiles to meet customer's requirement in response to climate changes.
Rapid changes in the competitive environment, general manager Chen believes that the only key is research, Research is sustainable in order to achieve better future and to gain international market stand. General manager of Sun Asia Enterprise co., Ltd purses continuously to innovate products and technologies with little capital to produce more stable quality and better products. Since 1995, Sun Asia Enterprise Co., Ltd imported Toshiba Machine and technologies from Japan to accelerate productivity; In 1997, Sun Asia Enterprise Co., Ltd has become the first company in Taiwan to produce varies products of Polycarbonate. Within the same year, Sun Asia began to produce Twinwall sheet with UV coated from Toshiba extruded machines. In 2004, invest in high technologies of diffusion sheet. In 2010, invest machinery for both side UV coating on both side of the sheet for prolong the life span of the sheet.
A wide range of various of products consist of different applications from traditional construction, civil engineering, interior design and lighting which extends to the aluminum extrusion and others. Products are exported to various of countries worldwide. With the strict quality requirements of the Japan market, Taiwan many counties are equipped with dealers which are able to provide customers with direct sales and services, and to provide a good after-sales information timely to meet the needs of the consumer.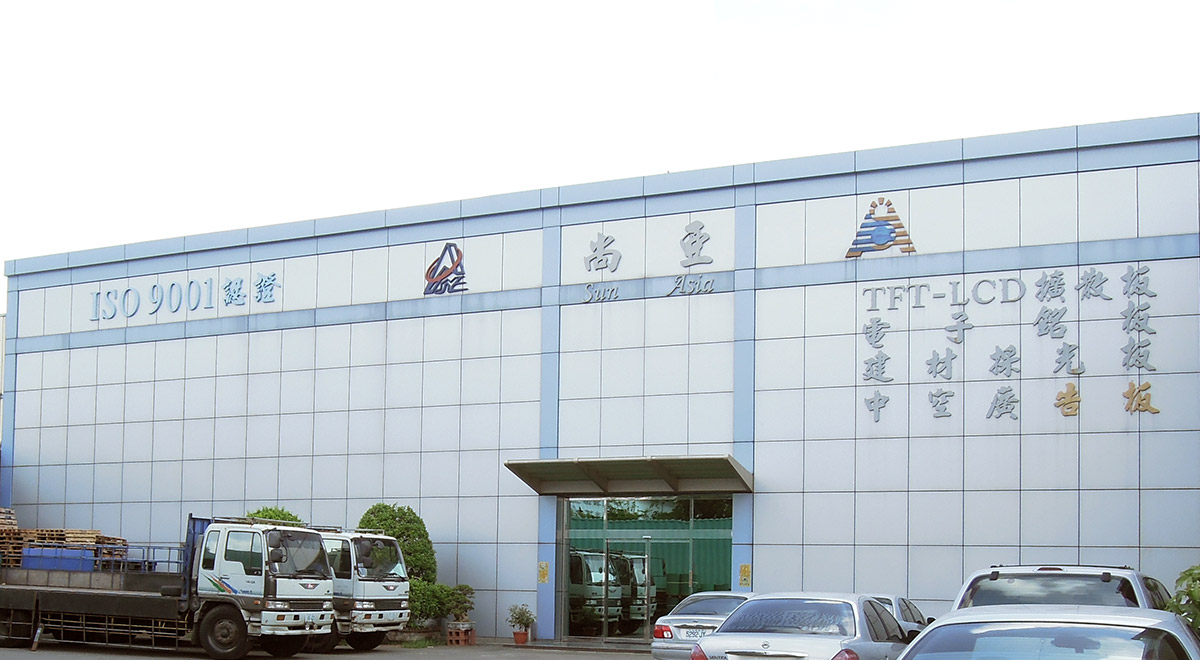 History
| Year | Achievement |
| --- | --- |
| Nov. 2017 | We develop IR Absorbent sheet which add infrared absorber can decrease 11°C. |
| Jan. 2016 | We develop Polycarbonate Diffusion sheet for LED usage. |
| Dec. 2014 | We develop second generation Aluminum profile of skylight. |
| Jul. 2012 | We not only manufacture Polycarbonate sheet, we also supply Ventilate aluminum pfofile to build skylight. |
| Nov. 2011 | SHUTTER TWIN-WALL SHEET is awarded with Taiwan Gold Medal Quality Product Award and Golden Steering Award. |
| Mar. 2011 | SHUTTER TWIN-WALL SHEET won 39th International Exhibition of Invention of Geneva. |
| Sep. 2006 | Expansion of new warehouse location. |
| Oct. 2005 | Implement manufacturing of optical & TFT-LCD sheet |
| Feb. 2004 | Started to manufacture thin sheets (0.8 ~ 1.0mm) for electronic devices. |
| May. 2005 | Song Asia Entreprise Co.,Ltd was renamed as Sun Asia Enterprise Co., Ltd. |
| Feb. 2004 | Brought in the fourth UV co-extrusion machinery for manufacture anti-UV and flat sheets production line. |
| Jan. 2004 | Started to manufacture anti-droplet sheet for horticultural and greenhouse use. |
| Oct. 2003 | With the production of diffusion sheet and value-added products, a second factory was established, and brought triple-axle multi-layer film extrusion production. |
| Sep. 2003 | Started R&D and production of diffusion sheet for optical technology. |
| Jul. 2003 | Certified by ISO 9001: 2000 system. |
| Aug. 2001 | Purchase the second UV co-extrusion to manufacturer the anti-UV and larger size hollow sheets. |
| Mar. 1999 | Developed all-weather, durable, and heat-resistant PC sheet. |
| Dec. 1998 | Developed colored transparent PC sheet, approved for patent. |
| Aug. 1997 | Brought in UV co-extrusion machinery from Toshiba to produce anti-UV hollow sheets. |
| Jul. 1997 | Certified by British AMTRI VERTAS ISO 9002 : 1994 system. |
| Apr. 1995 | Brought the third UV co-extrusion machinery from Toshiba to manufacture the anti-UV and larger size sheets. |
| May. 1994 | Cooperated with Japanese Toshiba and brought in technology and equipment from overseas to manufacture high quality PC sheet. |
| Feb. 1993 | Established a new factory in Sinyin Industrial Park and improved the product quality of Song Asia. |
| Feb. 1990 | Established Song Asia Co., Ltd. in Yungkang, Taiwan County. Developed the first PC sheet manufactured in Taiwan. |
Movies