---
Shutter Multiwall Polycarbonate Sheet (Blue)
TW0055
The new generation structural design which is suitable for skylights and interior combine with multi concept of shutters, optical, thermal insulation, anti-UV and fire-retardant. This outbreak the traditional multiwall sheet with the advance technology and multi-axis precision to meet current requirement of energy saving and eco-friendly round the world.
Blind Multiwall Polycarbonate Sheet (Blue)
Features
Patent Product: Shutter Multiwall Polycarbonate Sheet are patent worldwide by Sun Asia Enterprise Co.,Ltd. It has high technology and adopts global unified quality to produce to ensure product stability.
Weather resistance: With a layer of anti-UV coated on the surface during the process of co-extrusion could prolong the lifespan of the sheet. Purpose of the anti-UV coating is to prevent ultraviolet from shining through which could cause the sheet from turning yellowish and ends with crack. Shutter Multiwall Polycarbonate Sheet maintains an excellent transparency surface over a period of time compare to others.
Light Transmittance: Centre structure adopts slant angle which enable gentle morning sunlight to shine through unlike traditional multiwall Sheet which adopts vertical angle that block the sunlight totally.
Thermal insulation: Thermal insulation of Shutter Multiwall Polycarbonate Sheet is better due to its unique slant structure which absorbs heat compare to tradition multiwall sheet and other thermal insulation sheet.
Appearance: Outstanding appearance of the centre slant structure which projects colorful design of the sheet and applies heat insulated effect implemented on the outdoors such as skylights and roofing. It could be apply to indoor partition and blinds.
Weight: The weight is lighter compare to glass in order to save cost. Weight of 6mm thickness glass is 16kg/sqm unlike the weight of Shutter Multiwall Polycarbonate Sheet is 1.74kg/sqm.
Description of Heat Insulation
Centre structure with heat absorption effectively blocks heat from penetrating and inhibit increase in temperature. This allows visible light from penetrating.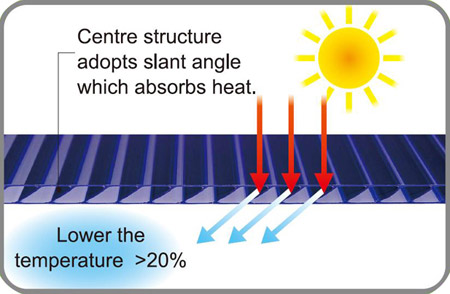 Heat-insulated Coefficient Test Report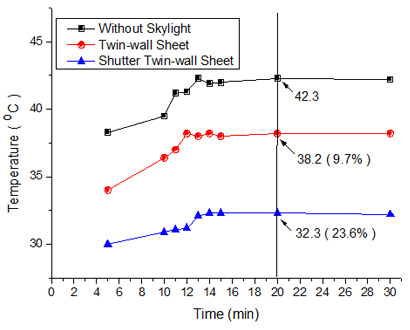 Specification
Thickness (mm)
Width (m/m)
Length (m/m)
Surface
Color
4
1000 / 2100
5800 / 11800 / To be Customized
Flat
Opal, Brown, Green, Blue and Gray.
6
1000 / 2100
8
1000 / 2100
10
1000 / 2100
Product Reference
| Item | Color | Reference Code |
| --- | --- | --- |
| Shutter Multiwall Polycarbonate Sheet | Opal | TW0005 |
| Shutter Multiwall Polycarbonate Sheet | Brown | TW0025 |
| Shutter Multiwall Polycarbonate Sheet | Green | TW0035 |
| Shutter Multiwall Polycarbonate Sheet | Blue | TW0055 |
| Shutter Multiwall Polycarbonate Sheet | Gray | TW0155 |
Applications
For Outdoor: Roofing, Skylights, Balcony, Walkway, Overhead Bridge, Ceilings covering, Car shield, Advertising protector etc.
For Indoor: Partition, Shower cupid, Interior design, Decorating blind flange, Window-Door hardware, etc.
Certificate
ISO 9001 and SGS.
Trade Information
Country of Origin: Taiwan

Payment Details
- Payment Terms: T/T or Irrevocable L/C at sight
- Minimum Order: 3,000 kg

Delivery Details
- Lead Time: 20~30 Days
- FOB Port: Kaohsiung, Taiwan.
Related Products

---

Files Download

---