Exhibite @ The 24th Taipei INT'L Building, Construction & Decoration Exhibition Exhibition Manual
2012/10/11
SUN ASIA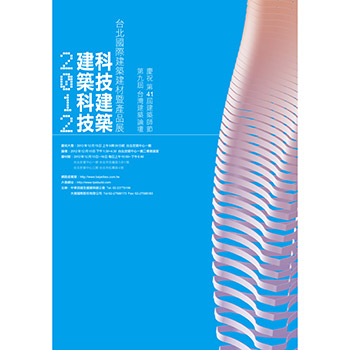 The new generation structural design which is suitable for skylight and interior combine with multi concept of shutter, optical, thermal insulation, anti-UV and fire-retardant. This outbreak the traditional Twin-wall with the advance technology and multi-axis precision to meet current requirement of energy saving and eco-friendly round the world - SHUTTER TWIN-WALL SHEET.
Sun Asia will show in The 24rd Taipei INT'L Building, Construction & Decoration Exhibition Exhibition Manual.

Exhibition Profile:
(1) Theme Area.
(2) Green Building, Intelligent Building and Building Materials.
(3) Infrastructural Architecture and Building.
(4) Decorative Building Materials.
(5) Stone Materials and miscellaneous Building Materials.
(6) Environmental Engineering and Equipment.
(7) Furniture and Furnishings.
(8) Other relevant products.

WELCOME TO VISIT.
Exhibition Schedule
Exhibition Dates & Hours: 10:00 am to 6:00 pm, December 13 ~ 16, 2012
Exhibition Venue: The TWTC Exhibition Hall ONE
Booth NO.: B225
Booth Company Name: SUN ASIA ENTERPRISE CO., LTD.
Website: http://www.twtc.org.tw/e_index.asp